Day 4 and 5 Blog
Friday and Saturday
Classical music remained the primary focus today, with students continuing to assist the Abbey Road recording engineers, and live performers in tracking, microphone placement, and general tasks that needed to be completed.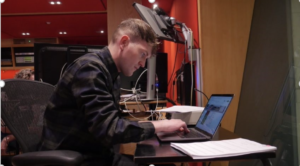 The instruments that were included in the performance were a string quartet, placed in the live-room, and in two separate isolation booths, there was a grand piano in one, and in the second, an oboe.  
Applying their knowledge of the different fundamentals of sound, they knew which microphones would be suitable for each instrument, and the appropriate placement in relation to direction, area around, as well as the reflections emitted.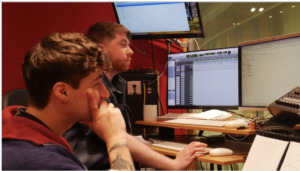 Similar to the previous recording sessions, each student was assigned an individual role that would cover certain jobs, essential in some cases. For example, the timing of the lead-in, before pressing record can be a huge factor. It allows the conductor to prepare the performers and himself for executing the correct parts in the right moments. Though at face value, it can be seen as a small or rather minimal job, the long-term effect it has on the workflow and quality of each track, is potent and noticeable when heard on the playback.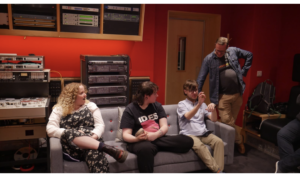 Throughout the week, the York St John students have shown their professionalism and have used their expertise and knowledge to run successful recording sessions throughout the week. The diversity of the material being recorded has not phased them in the slightest. Whether it was progressive rock in a "live" setting or the intricacies of recording modern classical music to picture, they have overcome many challenges.  
This is a testament to the talent of these students. In a world-renowned setting, they have helped bring out the best in the musicians they are recording. They have settled into the routines of Abbey Road and adapted their own practices to suit the setting and the job at hand.  With this experience, they are set to go out into the world of music production with fond memories of their time at Abbey Road, as well as new skills which will help them on their journey within music production.  
A big thank you to all of our photography and film crew who have provided us all of this amazing content we've been able to present to you, and of course a thank you to the lecturers and the crew at Abbey Road who allowed our students to have this experience. 
Here's to Abbey Road 2023.  
Link to Abbey Road 2022 playlist:
https://youtube.com/playlist?list=PLjOsRqI2tpWWOPtfBGGoII0rjxMh_9Hit
Words:  
 Alex Riddlesdell – (2nd year Music Production and Creative Business) 
John Ricketts – (2nd year Music Production and Creative Business) 
Edited by: 
Abi Shaw – (1st Year Music Production and Creative Business) 
Images: 
York St John Music Production